Eliminate Blackheads Easily! 
The PoreVac™ Facial Pore Cleanser removes blackheads using gentle micro-suction technology, all while reducing the size of your skin's pores. By penetrating deep below the skin's surface, getting rid of the excess oil and dirt, making your skin cleaner and smoother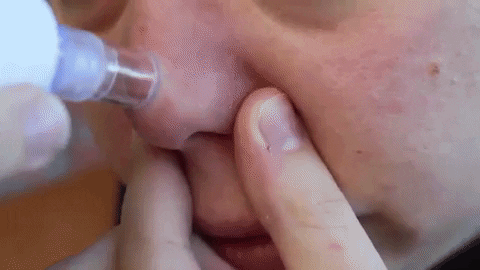 This revolutionary blackhead Vacuum device will have your
skin clear of blackheads within seconds
. With an ergonomic design and easy operational system, makes PoreVac™ highly user-friendly suitable for everyone from amateurs to professionals. 
The
PoreVac™ Facial 
Pore Cleanser
is the newly invented solution to shrinking large oily pores. 5 replaceable suction heads are included in this set, ensuring that it works for all types of skin!
Everyone is sick and tired of large pores and blackheads!
Features:
Our blackheads vacuum painlessly removes blackheads from the root!
Five suction heads, fit for different blackheads and skin, remove horny and dead skin
Vacuum suction system to promote skin blood circulation and lifting the skin
Great for all skin types include normal, rough, wrinkled, dry and sensitive all can benefit from our skin vacuum.
Deeply clean face, remove blackhead, acne, pimple skin and dead skin to achieve glowing youthful skin.
It comes with a USB charger cord so you can easily use it at home or on the go while travelling.
This blackhead remover machine turns off in 5 minutes after full charging and enters the auto-sleep mode. And features auto-protect when a short circuit start.
Five suction heads
Diamond head: It can scrub exfoliating the dead skin, and suck it out, so to repair skin and remove wrinkles and acne.
Big circle hole head: Powerful suction blackheads, apply to blackheads.
Small circle hole head: Suction is weak, it can be used to suck blackheads, such as thin skin, tender, allergies part.
Oval hole head: Weak suction, apply to the 2 sides of the nose. Remove wrinkle. After sucking the skin, quickly unplug, unplug and then suck again. Promote blood circulation, increase skin elasticity, effectively removes lines wrinkle.
Pointed small head: Special for those soft skin that cannot hold by strong power suction.
To maximize the benefits of Blackheads Vacuum's results follow these simple instructions:
Step 1: we recommend to use a facial steamer or hot towel for 10 minutes to warm your face and open up your facial pores. 

Step 2: Apply the blackhead derives liquid on the blackhead place for 5 minutes.

Step 3: Choose a head, start with the lower suction power, moves the device along the blackhead motion back and forth.

(Please do not stay at one spot over 3 seconds. Remember that move the machine around in a direction along the way, don't move back and forth)

Step 4: After use, please use a cold towel or cold mask to close your facial pores and after that apply face moisturizers. 




Installation steps:
Parts including working heads, cotton, rubber rings.
Put the cotton into the filter, and then install the cover.
Choose a suitable working and install it.
Package content:
Blackhead vacuum device x 1
Microcrystalline probe x 1
Oval probe x 1
Small size circular form probe x 1
Big size circular form probe x 1
Small Pointed probe x 1
Sponge x5
Silica gel ring x 2
USB charging wire x 1
Operation manual x 1
Buyer notice:
This Machine needs to press the button 3-5 seconds until the light turns on.

When you receive the item, please run out of the battery, then fully charge the machine.

All of the machines have been tested before we ship out, if you have any questions after you receive the machine, please feel free to contact us.