Our revolutionary Meridian Therapy Pen is a painless acupuncture type stimulation,  which uses electric pulses to help to reduce muscle pain, promote healthy blood circulation, activate tissues, and firm sagging and aging skin! 
According to traditional Chinese Medicinal Theory, acupuncture points are located on meridians, through which vital energy runs 
Acupuncture points are seen as places where nerves, muscles, and connective tissue can be stimulated. The stimulation increases blood flow, while at the same time triggering the activity of the body's natural painkillers. 

Needle-less acupuncture.
There are no needles involve so there is no skin piercing. Simply press the pen onto affected areas and it will release an electric pulse to stimulate the meridian and acupuncture points in your body for healing and pain relief.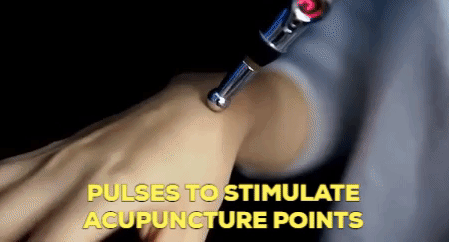 Alternative treatment: It has no side effects as opposed to using painkillers and other medications to treat chronic pain. It's great for treating acute and chronic physical pain, arthritis, rheumatism, osteoporosis, sciatica, migraine, sports injuries, and muscle, joint and back pains. 
Easy to use: It only needs one AA battery to function. It has a digital display that shows the strength of the electrical pulse output (0 – being weakest) Simply press the start button to increase or decrease the strength of the electric pulse. 
Portable pain reliever: It's lightweight so you can easily put it in your pocket, bag, or pouch if you're traveling or perhaps just going to work for a long day and need relief from your pain.